CEU Manila 1st Floor, Mezzanine; 2nd Floor, CDL Hall; 2nd Floor of LAH Extension; and 3rd Floor of the Dent/Sci. Building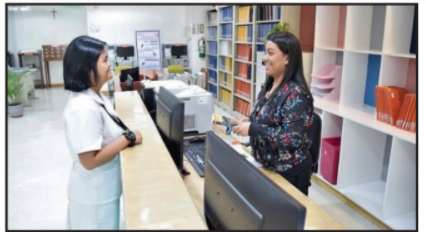 CEU Makati 7th Floor, LV Campus; 3rd Floor, GP Campus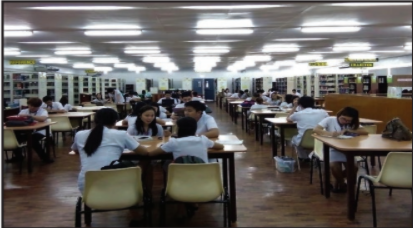 CEU Malolos 3rd Floor, Pilar Hidalgo Lim Building
The CEU Library is an academic center that serves as a place of discovery, exchange and advancement of ideas and responds to the information and research needs of its users. The library collection includes books, journals in print and electronic formats, and online resources/databases. The Main Library and the Campus Libraries are fully Wi-Fi- capable and equipped with internet connections along with printing facilities.
The services offered to students include (1) research assistance, (2) reference assistance, (3) research writing assistance, (4) course reserves, (5) in campus and off campus access to online databases, and (6) alumni library services. The library website http://www.library.ceu.edu.ph provides more information about the resources and services of the library.
Users of Library
The CEU Library is open to the following, subject to the rules and regulations:
All bonafide students of CEU Manila, Malolos and Makati campuses with identification card
Faculty members, non-teaching staff, officers and the CEU Administration
CEU reviewees for board examination
CEU alumni with CEU alumni identification card
Scholars doing research work in the University with a letter of request from their respective officers
Mendiola Consortium members with a letter of request from their Chief/Head Librarians
Members and students of other educational institutions with a letter of request from their respective Chief/Head Librarians and with the permission to conduct research
Persons under categories 3-7 are required to register at the Circulation Unit, Library Department, first floor, CDL Hall. Makati GP Campus, 3rd floor and LV Campus, 7th floor.
Use of the Library Resources
The CEU Identification Card (ID) serves as the library card of students, faculty and employees who are entitled to the use of its resources and facilities. They may check out books for home or room use depending on the type of resources.
Home Circulation Materials
These are books from the Circulation, Dental Library, Science, Filipiniana, Graduate School Library, and Medicine collections that can be borrowed for home use: Three (3) circulation books can be borrowed by undergraduate students and five (5) books by graduate students and faculty members. During the semester and summer term, circulation books can be borrowed for three days by the undergraduate students and one week for graduate students. Loans of any book are renewable for the same period, unless needed by other library users.
Online Resources
These online resources can be availed in campus and remote access. Print-out of searched articles can be obtained at the Cybrary. Username and password are issued upon request.
Room Use Materials
The non-circulating materials that are limited to room-use only are foreign and reference books, undergraduate researches, CD-ROMs, microfilms, theses and dissertations and any materials from the University Archives. The print materials, except those from the Archives, may be photocopied.
Reserved Books
Books requested by faculty members in the various courses may be placed on reserve. These books may be read in the Reading Room for an hour, subject to renewal, unless needed by other library users. Overnight loans are allowed at 4:30 p.m. and are to be returned not later than 8:00 a.m. the following class day.
Cybrary
The internet facilities at the Cybrary supplement the print and online resources of the library and are devoted to research and academic related activities only. Students are granted twenty-five hours (25) free use of the Cybrary per semester; ten (10) hours in summer.
Users are required to log in and out at the counter. Downloading of printed materials is permitted. Printing of research output must be requested from the staff on duty and any erroneous prints will be charged to the user.
Downloading of internet files is permitted. Flash drive shall first be scanned for virus infection before use. A virus infected flash drive will not be allowed to be used in any internet and online database workstations as a preventive measure. Mobile phones are required to be turned off while inside the Cybrary Unit.
Printing cost is as follows:
PhP5.00/page for laser printer
Php20.00/page for the colored copy with full graphics
Wireless Network Technology
Access service is free and is available only to any CEU library user who has laptop computer with the IEE 802.11b standard. Owners of computers that are not Wi-Fi-ready may borrow a PCMCIA wireless card from Cybrary and may use it for ten (10) hours per month within the library premises for free.
Library users are encouraged to use battery-run laptop computers due to limited electrical outlets.
Fines and Penalties
Home Circulation Book - Overdue fine of Php5.00/day including Sundays and Holidays
Reserved Book - PhP2.00 for first hour; PhP5.00 for succeeding hours, including Sundays and Holidays
Lost Book - Replacement of same title or replacement with another title to be approved by the Head of the Library Department and PhP5.00/ day is computed from the due date until date of return but does not exceed the cost of the book.
Cybrary and wireless technology - A fee of Php 0.50 per minute will be charged in excess of free hours use per month. Lost or damaged PCMCIA wireless card adaptor will be charged to the borrower.
Overdue fines should be paid at the loan desk where the books were borrowed.
Any library user who defaces, mutilates or steals any library material or property shall be required to replace the same and in appropriate cases be referred to the Student Affairs Office for disciplinary action.
A library user who fails or refuses to settle his/her outstanding library account will not be given clearance by the Library.
The reading areas in the library are quiet-zone areas. Making noise, having loud conversation, eating and drinking within the library premises are strictly prohibited.
Making calls/answering calls through mobile phones are not allowed inside the library premises; mobile phones must be put in the silent mode. Any student violating this rule shall be penalized according to the University system of discipline.
Recharging of electronic gadgets (mobile phone, laptop, tablet) is not allowed.
Reminders:
Things and belongings must not be left unattended. The library staff are not responsible for any loss or damage to any belongings that have been left unattended.
For security purposes, left behind belongings are turned over to the Security Personnel on duty.
Violation or infraction of the rules and regulations of the Library shall not be excused on the plea of ignorance.